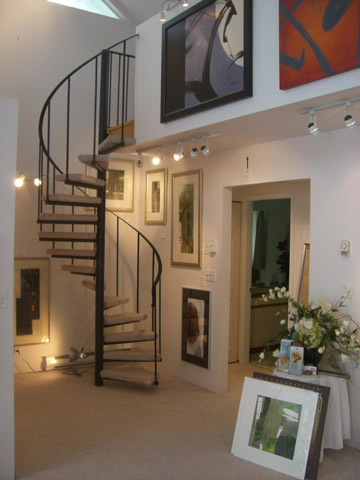 Motoko immigrated to Canada in the early 1990's from Japan where she was born and raised. Currently she works from her gallery/ studio in Pender Harbour. Since she became involved with art, Motoko has chosen to push her work to the limits. Each year, she purposely sets out to create a new style toe express herself.
Originally she started with custom boat and marine art, and them moved to floral and garden work. Everything blends traditional Japanese art with her vision. A breakthrough with abstract art has opened a new expressive genre for her. You can see the evolution of her style while browsing through her gallery of both originals and limited edition prints.
Motoko is deeply influenced by the beauty of the world around her, how changing effects of daylight and weather influence what she sees and it provides her constant inspiration. At a recent visit, she showed us her new gallery, which is opening Saturday Sept. 20, 2008 with her Annual Fall Exhibition & Sale. She will also be hosting a live jazz concert featuring Sibel Thrasher, which is part of the 2008 Pender Harbour Jazz Festival. (www.phjazz.ca)
The interest in Motoko's work is growing and visitors stopping by have the opportunity to purchase originals, limited editions and art cards. Some visitors are so inspired that when they see a work in progress, they buy it before it is hung in the gallery.
Visit her website, www.motokoart.com for more details about her work, gallery hours and times.