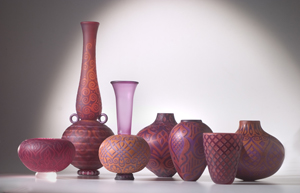 Local Vancouver Glass Artist, Laura Murdoch is currently having her first solo show in our city. Running from July 31 to September 7th, at the Crafthouse on Granville Island, you can both see and purchase the work of this talented glass artisan.
In her formative childhood years, Laura spent considerable time in the Yukon where both the physical landscape and weather played a major role in her development. With so much time spent indoors, doing crafts was an integral part of her day-to-day life as it was both creative play and passed the time. Outside, a rugged landscape combined with a special light that can only be found when there is an extended dawn and dusk left a lasting impression. Add the colourful parkas of the local population that created a unique energy to the otherwise dark and winter days, and you can understand where her passion for colour and light comes from.
Initially her interest in the arts led to dance, theatre and the films where she gained a greater appreciation of materials. A turning point however was when she applied to Pilchuck Glass School, and when she met her mentor, Shelly Muzylowski-Allen, with whom she apprenticed.
The art of glass is a huge challenge to conquer for any artist. It is both physically and mentally challenging work. It allows the artist to create some incredible effects through the use of colour and heat. This can be taken even further when different techniques are added to the process.
Laura creates beautiful and unique designs both for vessels and lighting. A piece may incorporate sand carving, acid etching, glass overlays, painting including reverse painting and hand forged iron armatures. The process is very time consuming and some pieces take 100s of hours of work to complete. Talking with Laura, you understand that she feels that the glass can guide her and lead her to its final form. It takes time and careful consideration to finish a piece. The brilliant colours and processes lead to some spectacular results.
If you cannot visit her solo exhibition, visit her website to get more information about her work and also see one of her complete commercial lighting installations. Laura is open to commissions, so speak to her directly if you are inspired to have a custom piece developed for your own personal space. http://www.murdochglass.com/